The Lightning Network and the Third Bitcoin Halving – Bitcoin Magazine
The Lightning Network, Bitcoin's second layer solution for faster and more efficient payments, was integral to the ecosystem's third epoch — with a number of Lightning-focused projects iterating and expanding upon the technology to establish it as the most promising protocol built upon Bitcoin.
Further Reading: What Is the Lightning Network? 
It became clear during Bitcoin Magazine's BitcoinHalving.com live stream that this development is only poised to ramp up following Bitcoin's third-ever subsidy halving. As leaders from the space's Lightning-focused projects took the stage, they elaborated on the progress we've already seen from this relatively new technology and projected the evolutions that are to come.
Lightning Network in the Fourth Epoch With Elizabeth Stark
As Elizabeth Stark, CEO of Lightning Labs, explained during her BitcoinHalving.com session, the story of the Lighting Network and that of Bitcoin's third epoch are largely one and the same.
"In reflecting on the past Halving, the 210,000 blocks, that was really when the first Lightning development started," she told moderator Colin Harper. "So much has changed since then, it's been wild to see things evolve since the last Halving."
But even though the Lightning Network has seen powerful development and significant adoption during its life between the second and third Halvings, there are some obstacles still to be overcome. For Stark, this is first and foremost a question of bitcoin liquidity.
"With Lightning, you've got amazing speed, amazing scalability, very low fees, but you do have this liquidity aspect to Lightning," she said. "You need inbound capacity in order to receive funds and, of course, you need funds outbound in a channel in order to send. So, to me, I see one of the challenges as ensuring that we have the proper liquidity."
Stark and Harper went on to discuss the role of Lightning service providers, use cases beyond payments and more.
How the Lightning Network Changes the Game
To further explore how the Lightning Network has fundamentally changed Bitcoin and its potential for this next epoch, the BitcoinHalving.com live stream hosted a panel featuring Jack Mallers of Zap, Alex Leishman of River Financial, Chris Dannen of Iterative Capital and Will Reeves of Fold. 
Each participant is doing more than their fair share to boost Lightning development and put the second layer protocol to work through innovative products and services. During the panel, they discussed the characteristics that make Lightning development effective and attractive, what it will take for more people to onboard and the next four years for Lightning. 
Touching on just how nascent Lightning is as a technology, Mallers noted optimism about the potential of the second layer protocol while also pointing out that this third epoch will still be focused on figuring out what exactly mass Bitcoin adoption looks like.
"Bitcoin as a technology offers us many efficiencies, especially in consumer commerce which is generally a super inefficient system," he said. "But I'm excited for the journey, quite frankly, and being one of those that's on the ground fighting the fight. I think the answers will be clear in four years and between now and then is just time to figure them out." 
Of course, the answers will also be largely dictated by the use cases that emerge in the near future. The panel spent some time discussing the newer Lighting ideas that get them the most excited in this epoch
"I think one of the most exciting things is the LSATs — Lighting Service Authentication Tokens," Dannen explained. "It's going to be really interesting to replicate some of the token-based authentication schemes that we already have with centralized providers but do it with self-sovereign identity, which is pseudonymous and which is persistent across the network."To hear more about how the Lightning Network is poised to grow following Bitcoin's third Halving, visit our YouTube page for the rest of our BitcoinHalving.com live stream panels.
Peter Chawaga
Peter Chawaga is a senior editor at Bitcoin Magazine. He HODLs BTC.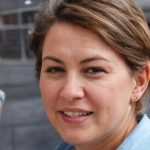 I am a Crypto author and journalist. I have been writing about cryptocurrencies and blockchains for over 5 years. I have also been a guest on numerous podcasts and radio shows, discussing these topics. In addition, I am also a crypto advisor and consultant.